10. PHILHARMONISCHES KAMMERKONZERT
Curtis on Tour

The Nina von Maltzahn Global Touring Initiative of the Curtis Institute of Music
Donnerstag, 19. Mai 2022 um 19.30 Uhr
Die Glocke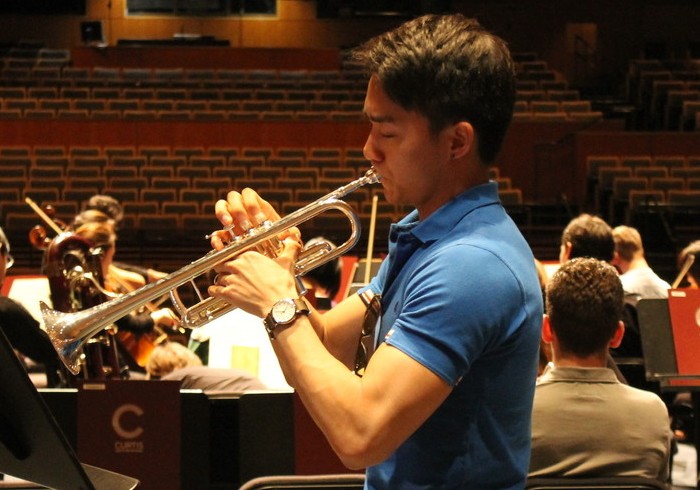 Ayane Kozasa – Viola
Steven Lin – Klavier
Michael Rusinek – Klarinette
Programm (Änderungen möglich):
MOZART: Trio Es-Dur für Klavier, Klarinette und Viola, KV 498, "Kegelstatt-Trio"
SCHUMANN: Märchenerzählungen, Op. 132
Märchenerzählungen, Op. 132 Robert Schumann
Lebhaft, nicht zu schnell (1810-1856)
Lebhaft und sehr markiert
Ruhiges Tempo, mit zartem Ausdruck
Lebhaft, sehr markiert
DARON HAGEN: Book of Days (Commissioned by the Curtis Institute of Music)

BRUCH: Acht Stücke für Klarinette, Viola und Klavier, op. 83
Mehr Informationen zur anstehenden Tour der drei Curtis Alumni finden Sie unter:
Link
Eine jahrelange, vertrauensvolle Zusammenarbeit setzt sich fort. Wir sind sehr geehrt nach wie vor eine Curtis-on-Tour Station zu sein. Von Kontinent zu Kontinent gehen die Kontakte von Ausbildern zu begabten Jung-Talenten, deren wichtigste Erprobung ihres Könnens der Konzertsaal ist.
Weitere Informationen finden Sie unter (Credit: Curtis on Tour):
The Curtis Institute of Music educates and trains exceptionally gifted young musicians to engage a local and global community through the highest level of artistry. For nearly a century Curtis has provided each member of its small student body with an unparalleled education alongside musical peers, distinguished by a "learn by doing" philosophy and personalized attention from a faculty that includes a high proportion of actively performing musicians. To ensure that admissions are based solely on artistic promise, Curtis makes an investment in each admitted student so that no tuition is charged for their studies. Curtis students hone their craft through more than 200 orchestra, opera, and solo and chamber music offerings each year and programs that bring arts access and education to the community. This real-world training allows these extraordinary young musicians to join the front rank of performers, composers, conductors, and musical leaders, making a profound impact on music onstage and in their communities.
Hailed for her "magnetic, wide-ranging tone" and her "rock solid technique" (Philadelphia Inquirer), violist Ayane Kozasa is a sought-after chamber musician, collaborator, and educator. Since winning the 2011 Primrose International Viola Competition—where she also captured awards for best chamber music and commissioned work performances—Ayane has appeared on stages across the world, from Carnegie, Wigmore, and Suntory Hall to Ravinia, Aspen, and the Marlboro Music Festival. She is a passionate advocate for the expansion of viola repertoire, and has commissioned multiple new works featuring the viola, including "American Haiku" by Paul Wiancko and "K'Zohar Harakia" by Judd Greenstein. Ayane Kozasa is a founding member of the Aizuri Quartet, who were the 2018 quartet-in-residence at the Metropolitan Museum and the grand prize winners of both the Osaka String Quartet Competition and MPrize Chamber Arts Competition. The Aizuri Quartet's debut album, Blueprinting—which features the music of 5 American composers, all commissioned by the quartet—was nominated for a Grammy Award and named one of NPR's top 10 classical albums of 2018. The Aizuri Quartet is devoted to education as well, working with young musicians from around the world and regularly leading student composer workshops at institutions such as the University of Southern California, Princeton University, and New York Youth Symphony. In 2020, the quartet launched AizuriKids, an interactive web series for children that explores relationships between music and themes ranging from astrophysics to cooking. Ayane is also a member of the duo Ayane & Paul with composer and cellist Paul Wiancko, with whom she performed on Norah Jones' recent album "Pick Me Up Off the Floor." A seasoned orchestral performer as well, Ayane has performed with the Orpheus Chamber Orchestra, A Far Cry, Jupiter Symphony Chamber Players, Philadelphia Orchestra, East Coast Chamber Orchestra, the Saint Paul Chamber Orchestra, as well as the Chamber Orchestra of Philadelphia, where she served as principal
violist from 2012 to 2016. Much of Ayane's current work involves mentoring aspiring young musicians through programs like the Green Lake Chamber Music Camp, Olympic Music Festival and Musikiwest Summer Festival. Ayane is a graduate of the Curtis Institute of Music, Kronberg Academy in Germany, and Cleveland Institute of Music, where she studied viola with Misha Amory, Roberto Diaz, Nobuko Imai, and Kirsten Docter. Aside from music, she enjoys baking, running, camping, and creating animation.
A top prize winner of the Arthur Rubinstein International Piano Competition in Tel Aviv, Steven Lin made his first performance with New York Philharmonic at the age of 12. Recently made a sensational Carnegie debut playing the Tchaikovsky Piano Concerto No. 1 and has been hailed by the New York Times for playing that is "…immaculately voiced and enhanced by admirable subtleties of shading and dynamics." Recent orchestral engagements include the Israel Philharmonic, Baltimore Symphony, and National Symphony of Mexico. Highly in demand for recitals worldwide, including Kennedy Center in Washington, Carnegie Hall, Munich, Paris, Tokyo, and Shanghai. A frequent performer with summer festivals, Steven Lin has appeared in the Bravo! Vail Music Festival, Aspen Music Festival, and La Jolla SummerFest. An active chamber musician, he has collaborated with Gidon Kremer and Misha Maisky. Steven Lin completed the prestigious Artist Diploma program at the Curtis Institute of Music, and before that, he earned both bachelor's and master's degrees at The Juilliard School. When not making music, Steven describes himself as an 'NBA basketball fanatic,' a source of great pride and commitment which began when he was eight years old.
Michael Rusinek joined the Pittsburgh Symphony Orchestra in the fall of 1998 as principal clarinet. He has also performed as principal clarinet with the orchestras of Philadelphia and St. Louis, the Royal Concertgebouw in Amsterdam, and the National Arts Centre Orchestra in Ottawa, Canada; and as assistant principal clarinet of the National Symphony Orchestra in Washington, D.C. Mr. Rusinek has often been a concerto soloist with the Pittsburgh Symphony, where in 2008 he premiered a new concerto by Alan Fletcher. He has performed as a soloist and recitalist throughout Canada, the United States, and Israel, including appearances with the Belgrade and Czech philharmonics and the Toronto Symphony. In 1985 Mr. Rusinek received the grand prize in the International Clarinet Society competition. He returns regularly to the Grand Teton, Santa Fe Chamber, and Aspen music festivals. He has also participated in the Tanglewood and Marlboro festivals and toured with the acclaimed Musicians from Marlboro. Born in Toronto, Canada, Mr. Rusinek studied with Avrahm Galper at the Royal Conservatory of Music and with Donald Montanaro at the Curtis Institute of Music. Mr. Rusinek is on the music faculty of Carnegie Mellon University and joined the Curtis faculty in 2012.
Fotos der Musiker finden Sie unter folgendem LINK